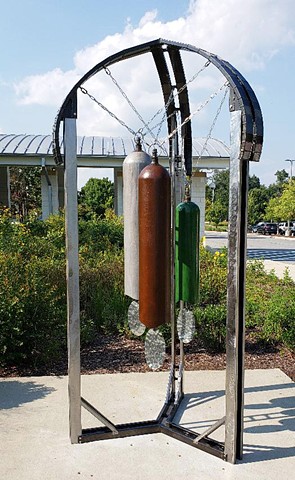 Sanctuary II: Faith, Hope, and Love
Welded steel and salvaged industrial gas cylinders
42" x 46" x 106"
2019
$16500
Created from welded steel and salvaged industrial gas cylinders, the bells of this sculpture ring as the winds blows.
The bells sound as a soft bell sound with wooden clappers.
The bells represent three elements of decent human behavior and interaction that are so essential to living together in harmony: faith, hope, and love. We could use a whole lot more of these three things in today's world.
Currently installed as part of the Howard County ArtSites 2019 exhibition at the Gary J. Arthur Community Center. Address is 2400 Route 97 in Cooksville, MD. Less than an hour north of the DC Metro area, check it out until June 2020.